College essay don'ts: 37 Things not to Do in a college essay
Knowing what not to write about in a college essay is just as important as knowing what to write about! This post is all about college essay don'ts, including college essay topics to avoid and how not to write your college application essays. 
It's so important to know what NOT to write about in your college application essay. Whether you're crafting your essay for the Common App or writing shorter college-specific essays, you need to know how not to write a college essay.
Choosing the wrong topic for your college application essays could mean that you don't get admitted to your dream school or you miss out on scholarship money.
Since you really only have one chance to get it right, you need to know what topics to avoid in your college admissions essays, general college essay don'ts, and what other pitfalls to avoid when writing your college essays.
Essay writing may feel overwhelming and stressful, but knowing what not to do will help!
What not to write in your college application essay
So you know exactly what not do in college admissions essays, here are 37 college essay tips about college essay don'ts. Follow this advice to know what not to write about in your college essay!
1. Don't restate the prompt
Start your essay with a hook. Start with dialogue. Start by setting the scene.
Don't start by restating the essay topic! The reader knows the essay prompts, so just start telling your story. 
2. Don't try to be funny in your college admissions essay
What you think is funny may not be funny to the admissions officer. And even if your admissions officer thinks it's funny, the dean of admissions may not agree.
Clever writing that naturally tells a funny story will get you further than trying too hard to make everyone laugh. 
3. Don't swear
You might not mind vulgar language, but many people do. It will come off as tasteless and crass. Simply put, curse words should not be part of your college admissions essay.
4. Don't just tell the reader what you think
Tell the reader what you did, how you felt, how you changed—not just what you think. Admissions officers don't want to read about what you think in the abstract.
They want to know what has happened to you in life, how that's affected you, and what you did as a result. 
Write an engaging, interesting story that shows the reader how you've grown and what you've learned.
5. Don't try to Appear perfect
It's okay that your life is messy and you don't have it all together. It's okay that you're not super organized and you don't know what you want to be when you grow up.
Your college essay doesn't need to be about how awesome you are (really, it shouldn't be!). It just needs to be about the real you. Remember, your personal essay for college should be just that—personal!
6. Don't brag
Your achievements are all listed on your resume.
Writing about how great you are, how you saved the day, or how you're a hero to others is not going to make a positive impression on the reader. Leave the bragging to the people who wrote your letters of reference. 
7. Don't emphasize status
Avoid topics that emphasize your financial privilege. Voluntourism trips to aid people living in poverty in far-flung areas of the world is a key example of this.
Don't write about going to a third world country to volunteer to help the less fortunate and how you learned how privileged you are. Just don't. 
8. Don't lie
Don't inflate your accomplishments. Don't pretend to be someone you're not.
If you write something dishonest in your essay, it won't match the other parts of your application. If you were found to have been dishonest when writing your essay, you will not be offered admission at that college. 
9. Don't reveal too much
If you have faced challenges, those struggles are part of you. You should feel proud of overcoming them. But your college admissions essay is not the place to share your most deeply personal experiences.
Some college admissions officers may read about your challenges and want to welcome someone with your tenacity and spirit to their campus.
Unfortunately, most admissions officers will read about your challenges and worry that you will face similar issues at their university. 
Many colleges choose not accept applicants who have demonstrated past mental health issues. This might not seem fair, but it is reality. Don't hide your true self or be dishonest, but carefully consider how much you want to reveal in your admissions essay about your private struggles.
10. Don't write about illegal activities
It's a safe bet that most colleges do not want to admit students who have a history of participating in illegal activities.
Even if you plan to talk about drug or alcohol use, jail time, or committing crimes as a way to show growth and discuss lessons learned, illegal activities show a lack of maturity and questionable judgement.
Writing about criminal behavior will not reflect well on you as a candidate for admission. 
11. Don't summarize your resume
This is one of the biggest college essay don'ts! Your college essay is your opportunity to tell the college admissions office who you really are and what really matters to you.
Your resume already lists your activities, and your transcript details your grades. Your college essay isn't the place to review these facts; it's your chance to stand out by telling your story.
12. Don't tell a general story
Be specific. In fact, be very specific. Focusing on the details of your story will help make your college essay unique so that it stands out. A good college essay will tell a story that could only have been written by you—no one else. 
Instead of telling a biopic story of your life, focus on one aspect of your life—your beliefs, a meaningful experience, a key event—that explains who you are and what matters to you.
13. Don't write about cliché topics
Avoid writing about the sports victories and defeats. Don't write about overcoming an academic setback or a romantic breakup.
14. Don't write about something controversial
You don't know who will be reading your college admissions essay, and they might not agree with your views on controversial topics.
Moreover, your reader might not appreciate how you approach a sensitive topic. You might appear close-minded and unempathetic. 
15. Don't undervalue the small stuff
Great essays can be crafted from the small details of daily life.
Don't underestimate what interesting essays can be written about your morning routine, your favorite family recipe, your relationship with your sibling, or what you do on a snow day. 
In fact, some of the most memorable, best essays have been about a random item, food, or daily routine.
16. Don't go negative
Criticizing other people, your current school, or anything else will probably just make a bad impression on your readers.
Don't whine about your life. Negativity says more about you and how you perceive the world around you than it does about anything else. Certainly don't criticize the college you're applying to!
17. Don't be pompous
Never assume that you know better than your readers or that your approach is the only way.
Don't tell your reader what they should think. Avoid making generalized value judgements. 
18. Don't go completely off topic
Don't try to stand out by submitting a poem or creative writing sample.
Write a thoughtful, well-crafted essay about yourself, just like they asked for. Show that you respect the school admissions committee's request and can follow directions. 
19. Don't ignore the prompt
College admission essay topics are designed to allow you a lot of freedom in how you answer. Craft a story that tells something about you, within the framework of the prompt.
Just double check that your essay answers the prompt, to make sure you didn't veer off topic as you wrote and edited the essay. 
Also know that you can write about whatever you'd like to. In your essay writing process, if you find that the first prompt you chose isn't working out, choose a different one and start again.
20. Don't get the tone wrong
Your college admissions essay is not an expository essay, formulaic and devoid of warmth. Nor is it the right time for you to use all the fancy words you've been studying for the SAT.
Your college admissions essay should be engaging, show your personality, and sound like you—a teenager reflecting on your life thus far.
21. Don't write a trite conclusion
If your essay has done its job, you shouldn't need to sum it all up for the reader in a neat little final sentence.  
If you have shown your reader what you've learned, how you've grown, or who you are, you don't need to say it explicitly at the end of your essay. 
22. Don't wait until the last minute
Start writing your college admissions essay weeks, if not months, before its due. Senior year is an incredibly busy time, so it's a great idea to get started on your college admission essays as early as possible.
Leave plenty of time to think about what you want to say, revise and edit, and finalize the essay. You'll be amazed at how your essay can improve if you allow ample time to work on it.
If you're going to apply early decision or early action, consider starting to work on your main essay the summer before your senior year.
23. Don't ignore the word count
You don't want to write too much or too little. Aim to be within a few words of the word limit. Express yourself clearly and concisely.
24. Don't repeat your resume
When you're writing your personal statement essay, don't just repeat your high school resume.
Your personal essay is your chance to talk about an aspect of your personality or life experiences that can't be found anywhere else in your college application. 
The list of courses you've taken (and your grades) tell about your academic interests. Your extracurricular activities show what you're interested in and how you use your time.
Your personal statement essay should reveal something about you that doesn't show up in the rest of your application.
25. Don't write about an "example" topic
If you have read some amazing examples of college essays, and you're thinking that you could write on that same topic, don't.
Chances are, if your English teacher pointed out those examples, or you found them via a Google search, every other high school senior (and every school admission officer) has seen those essays too! 
Instead, dig deep and write your own amazing personal statement!
26. Don't copy and paste
It's completely fine to use the Common App to submit your personal essay to every school on your list (as long as they accept the Common App, of course).
But for each college's specific essays, tailor your essay to each school. Include specific details about each college that make you want to go there. And make sure your responses are appropriate to the culture of each college.
If you do copy and paste your essays, be sure the essay doesn't refer to the wrong school!
27. Don't overuse the thesaurus
Everyone gets stuck using the same words over and over again, and it's fine to check a thesaurus when you're writing.
But don't use big words just in an attempt to impress the college admissions officers. Don't use words you don't really understand to try to sound smart.
It's much better to write naturally in your own voice and let your true personality show. 
28. Don't plagiarize
If you're submitting someone else's college essay as your own, you're giving up the chance to share your unique story with the admissions office.
You're also risking an automatic rejection if you're caught!
29. Don't be fake
Use your essay to tell the admissions officers what you want them to know about you.
Don't try to guess what the admissions officers would like for you to say or try to be someone you're not. 
Be authentic, write with your own voice, and craft an essay that stands out from the other applicants.
30. Don't write a school essay
Your college admissions essay is not a five-paragraph expository essay.
It should still have a beginning and an end, but the part in the middle should tell a good story, not make an argument in three points. 
31. Don't Avoid feedback
If you're feeling stuck, feel free to ask someone else—a teacher, parent, family member, or friend—to read your essay and give you some feedback.
Feedback does not mean that they tell you what to write or how to write it.
Feedback should mean getting input from someone else can help you learn where your essay veers off point or where you need to dig deeper to tell a better story. 
32. Don't skip editing
Please allow enough time to write AND edit your essay. Ideally, you will write a first draft of your essay, then edit it, then get feedback, then edit it again, then write a final draft (then proofread it—see below). 
Expect to write at least three or four, and maybe many more, drafts of your college application essay. Your essay will improve with each round of editing.
The essay writing process can be time consuming, but in the end you'll have a strong essay to share with college admissions offices, so it will be worth it!
33. Don't overedit
What? Didn't I just tell you to edit?
Yes, absolutely. Just be sure that after you've shown your essay to trusted readers and you've made your edits, your story still remains.
The essay should still have your voice and should tell the story you want to tell. 
34. Don't skip proofreading
After you make your edits and write a "final draft," you might want to click send and submit your essay. But not so fast!
Take time to do a final proofread of your essay.
Better yet, ask a teacher, college counselor, or someone with excellent grammar and spelling skills to proofread your essay. Having a fresh set of eyes on your essay will help ensure it is error-free. 
35. Don't just rely on Spellcheck
It's really important to have an actual person proofread your essay.
Spellcheck and other editing software won't necessarily catch grammar errors, typos, or poorly structured arguments.
It's always a good idea to trust the final proofread of your essay to a person, rather than technology. 
36. Don't submit your essay at the last minute
You never know when a website will get glitchy!
Don't take a chance that the Common Application or an individual university's website won't act up at a crucial moment. Do your best to upload your college essay at least a day before it's due!
37. Don't submit an incomplete essay
When you're in the Common App website or a specific college's application portal, and you attach your admission essay, scan it quickly.
Be sure you attached the correct file or that the complete essay transferred. 
Final thoughts on college essay don'ts and what not to write in your college essay
Personal essays are a key part of the college application process. College admissions counselors, especially at smaller colleges, use college essays to learn more about the applicants applying for admission at their school.
An amazing college essay might not make up for bad grades or a lack of extracurriculars, but a poorly written essay may push your application into the reject pile. This is especially true now that test scores are usually optional.
Successful essays allow admissions officers to learn about your personal qualities, your take on global issues, and how you might contribute to campus life.
Writing a great college admission essay is the most important thing you can do to make a great impression on the admissions team. After looking at so many college applicants, test scores, GPAs, and awards all blend together. It's the personal essays that stand out when admission counselors are deciding which high school seniors will be accepted.
So, it's worth taking your time to write the best college admissions essays you can.
By avoiding all these don'ts of college essays, you'll know what not to write in your college essay. 
Learn how to write a unique college admissions essay that makes you stand out.
Is it possible to use the same essay for different college scholarship applications? Yes! With a bit of careful editing, you absolutely can use the same essay to apply for different college scholarships! You may not…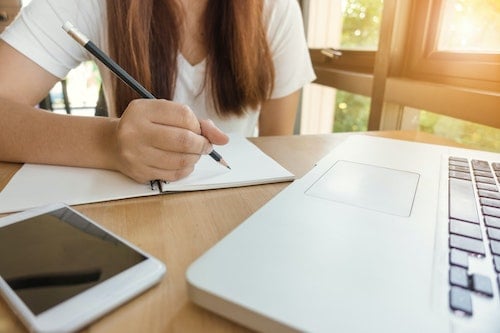 Why you're writing a college essay, how to choose a topic for your college essay, how to write an amazing college essay, how to edit your college essay, and how to make your college essay stand out.